Latinos Progresando shared Alianza Americas's event.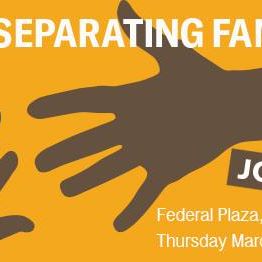 Rally to Support Families Separated in Immigration Detention
Community groups, religious leaders, immigration advocates and others concerned with fair and humane treatment for immigrants in detention are calling on all Chicago-area residents to join them at the Federal Plaza in downtown Chicago on Thursday, March 15 at 5:00 p.m. Participants will demand that the federal government stop separating mothers and small children while in immigration detention.
The vigil and rally come after news reports – and a lawsuit – revealed that a Congolese woman has been separated from her daughter for months, after the two arrived in November to Southern California seeking asylum. The child, age 7, has been held in a detention facility in Chicago while her mother remains in San Diego.
Government reporting on conditions in detention centers is extremely limited and opaque. However, immigration advocates across the nation report that more mothers and families have been separated in detention. Last week, a nationwide class action lawsuit was filed to address the issue.
Speakers at the event will include religious leaders, immigrant advocates, leaders from Chicago's Congolese community and others. Speakers will be available for interviews after the event.