"Family and community; the spirit of perseverance and warmth of my community is what inspires me most.
Latinos Progresando provides resources to everyday people and changes their lives. The organization has a very special place in my heart as I became a legalized permanent resident through LP."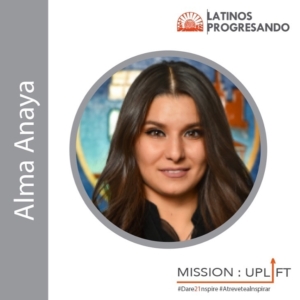 Alma Anaya was born in Guadalajara, Jalisco, and immigrated to Pilsen at age six with her family. She later broke barriers, being elected to the board of Cook County Commissioners, as the first Latina to serve in over 20 years. Alma has given generously of her time and talent to support the advancement of our community. As a former LP client, she's an integral, inspiring member of our community, and we're truly honored to recognize her as part of our 21st anniversary.
#Dare21nspire #AtreveteaInspirar
Give in Alma's honor
The 21 Profiles for 21 Years series is part of Mission:Uplift, a campaign to share the amazing stories that come from our community, while at the same time lifting up the work of Latinos Progresando, an organization that works to unlock the potential in everyone who walks through our doors. Consider joining Mission: Uplift by making an inspired gift to Latinos Progresando in Alma's honor: www.latinospro.org/donate