Latinos Progresando is proud to partner with BMO Harris Bank and Cara to introduce a new career opportunity.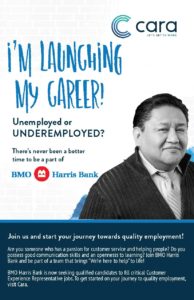 BMO Harris Bank is now seeking qualified candidates to fill critical Customer Experience Representatives jobs.
Personal and professional training will be provided by Cara.
> Regular first-shift hours with $15 per hour starting wage
> Paid on-the-job training
> Full suite of benefits including vacation, sick time, health insurance, and tuition reimbursement
> The chance to work at a company that values integrity, diversity, responsibility and empathy
If you're unemployed or looking for a new path, launch your career with BMO. If you're someone who has a passion for customer service and helping people, if you have good communication skills and an openness to learning, this program is for you!
If you're interested, please call Cara's recruitment team at (312) 798-3309, or start your application process online at www.carachicago.org/recruitment.
Download the flyer to share at your school or organization!
ENGLISH VERSION | SPANISH VERSION