"Latinos Progresando is an organization that lives and breathes love.
There's a special kind of love and comfort that I feel whenever I talk to someone from LP that I've never felt before in a professional setting. Their acceptance and willingness to help me as I'm trying to start up a non-profit has given me so much confidence, hope, and reassurance that I can do this. What inspires me the most is people who will stop at nothing to make a positive difference in other people's lives."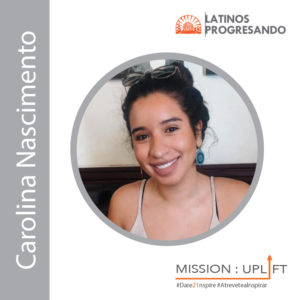 Carolina Nascimento is the founder of North Star Immigrant Advocates in Chicago. With her mom, she started the nonprofit organization to advocate for the immigrant community. Carolina has given generously of her time and talent, including volunteering at our 2018 Marshall Square Peace March, to support our organization's mission. She's an integral, inspiring member of our community and we're truly honored to recognize her as part of our 21st anniversary.
#Dare21nspire #AtreveteaInspirar
Give in Carolina's honor
The 21 Profiles for 21 Years series is part of Mission:Uplift, a campaign to share the amazing stories that come from our community, while at the same time lifting up the work of Latinos Progresando, an organization that works to unlock the potential in everyone who walks through our doors. Consider joining Mission: Uplift by making an inspired gift to Latinos Progresando in Carolina's honor: www.latinospro.org/donate