"I see Latinos Progresando as a group of selfless individuals coming together to make a difference in their community.
I felt attached to the organization since before I met them for the first time. LP makes me want to work harder—to continue passing the message of 'no more being a victim but victorious', to be part of solutions and not stay stuck in the problems."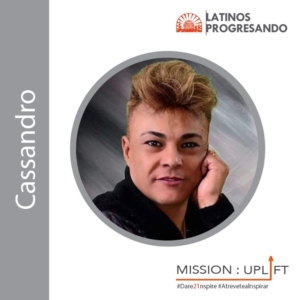 World-renowned exótico luchador, Cassandro, has known great adversity, but has also been blessed with incredible talent and persistence to continue spreading love. Latinos Progresando was honored to welcome him as our 2018 MEX talks headliner. Cassandro He's an integral, inspiring member of our community, and we're honored to recognize him as part of our 21st anniversary celebration.
#Dare21nspire #AtreveteaInspirar
Give in Cassandro's honor
The 21 Profiles for 21 Years series is part of Mission:Uplift, a campaign to share the amazing stories that come from our community, while at the same time lifting up the work of Latinos Progresando, an organization that works to unlock the potential in everyone who walks through our doors. Consider joining Mission: Uplift by making an inspired gift to Latinos Progresando in Cassandro's honor: www.latinospro.org/donate