"On a daily basis as I drive to work I am empowered and motivated by the residents of this powerful community.
These are individuals that demonstrate perseverance, grit, outstanding work ethic and the will to move forward in life. Latinos Progresando is a powerhouse in this community. As an administrator, I know I can count on them to join me in my efforts to provide for my students and parents."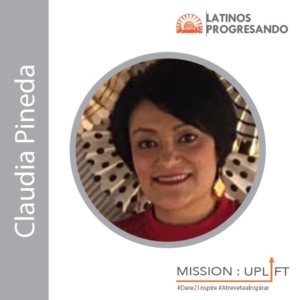 Claudia is the Assistant Principal of Kanoon Elementary Magnet School in Marshall Square/Little Village. Like LP, she works to unlock the potential in her community. She's also an active member of the Marshall Square Resource Network, a coalition delivering collaborative solutions in health, education and peace.
She's an integral, inspiring member of our community, and we're honored to recognize her as part of our 21st anniversary celebration.
#Dare21nspire #AtreveteaInspirar
Give in Claudia's honor
The 21 Profiles for 21 Years series is part of Mission:Uplift, a campaign to share the amazing stories that come from our community, while at the same time lifting up the work of Latinos Progresando, an organization that works to unlock the potential in everyone who walks through our doors. Consider joining Mission: Uplift by making an inspired gift to Latinos Progresando in Claudia's honor: www.latinospro.org/donate