"When my late husband Dion Miller-Perez and I decided that we wanted to honor the life of Dr. Angela Perez Miller (Dion's mother) by continuing her dedication to education through a scholarship fund in her name, Dion had the wisdom to turn to Latinos Progresando to make our desire a reality.
It is so gratifying to see the next generation shine. It pains me when I hear people being referred to as problems. No human being should be reduced to the false idea that they are a problem, when the truth is they are a gift."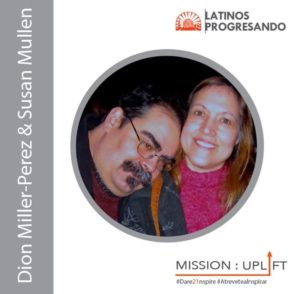 Latinos Progresando is truly honored to recognize Dion Miller-Perez and Susan Mullen as part of our 21st anniversary celebration.
This dynamic duo are ardent supporters, not just of our organization, but of basically anything positive for the community. The late Dion was involved in the community and the progressive policies needed to create positive change, inspiring hundreds to follow his footsteps. Susan has given generously of her time and great talent, including selling prints of her artwork and such to help fund LP's scholarship fund, to support the aspirations of immigrant families.
#Dare21nspire #AtreveteaInspirar
Give in Susan and Dion's honor
The 21 Profiles for 21 Years series is part of Mission:Uplift, a campaign to share the amazing stories that come from our community, while at the same time lifting up the work of Latinos Progresando, an organization that works to unlock the potential in everyone who walks through our doors. Consider joining Mission: Uplift by making an inspired gift to Latinos Progresando in Susan and Dion's honor: www.latinospro.org/donate