"Seeing people actively improve not only their personal lives, but improve their community, as well, is what inspires me.
I have witnessed firsthand how LP helps working families come out of the shadows to become serving members of society. Getting to see everything they've accomplished in the last 20+ years is a real testament to the need and their ability to serve."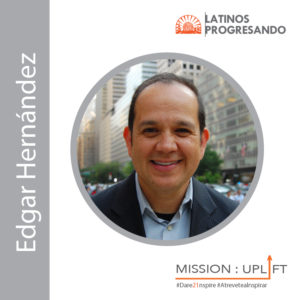 Edgar Hernandez has been involved with Latinos Progresando as long as the organization has existed. He has given generously of his time and talent, including running the Chicago Marathon, to support our organization's mission. Not only that, Edgar dedicates his professional career and personal life to advancing causes of social justice. He's an integral, inspiring member of the LP family, and we're honored to recognize him as part of our 21st anniversary celebration.
#Dare21nspire #AtreveteaInspirar
Give in Edgar's honor
The 21 Profiles for 21 Years series is part of Mission:Uplift, a campaign to share the amazing stories that come from our community, while at the same time lifting up the work of Latinos Progresando, an organization that works to unlock the potential in everyone who walks through our doors. Consider joining Mission: Uplift by making an inspired gift to Latinos Progresando in Edgar's honor: www.latinospro.org/donate