"My inspiration comes from the abundance of love around me, manifested through the strong bonds I share with the most important people in my life including my husband, mi mama, my two sisters and a small but tight knit group of amigas.
It's been an honor and joy to stand alongside Luis and his wonderful team in support and solidarity in my various career capacities throughout all these years. I've always seen Latinos Progresando as a vital service engine not only in Little Village, but for the entire City of Chicago. It is amazing to see the vision for Latinos Progresando continue to come to fruition. "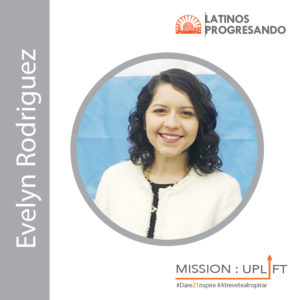 Evelyn Rodriguez is the City of Chicago's advisor for neighborhood development and community engagement. Her commitment to public service began at a very young age, and has extended from the political, to the advocacy and nonprofit sectors. Evelyn was part of LP's youth group when she was in high school, and has continued to give generously of her time and talent to support our organization's mission. We're honored to recognize her as part of our 21st anniversary and look forward to our upcoming work together.
#Dare21nspire #AtreveteaInspirar
Give in Evelyn's honor
The 21 Profiles for 21 Years series is part of Mission:Uplift, a campaign to share the amazing stories that come from our community, while at the same time lifting up the work of Latinos Progresando, an organization that works to unlock the potential in everyone who walks through our doors. Consider joining Mission: Uplift by making an inspired gift to Latinos Progresando in Evelyn's honor: www.latinospro.org/donate