"My mother and all my immigrant community is really what inspires and fuels me.
LP is a place that bleeds optimism and pride, where you can go and feel welcome–no matter who you are. It is a place where you go and just feel GOOD."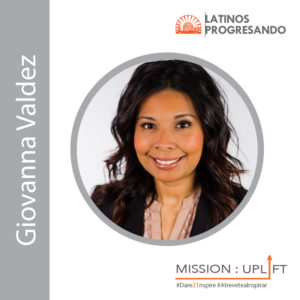 Giovanna Valdez is a founding partner of Valdez Vilim & Wunrow, LLP. She focuses her practice in the area of immigration and nationality law.
During her early days as a law student, Giovanna gave her time and dedication to LP and its clients.
She's an integral, inspiring member of the LP family, and we're honored to recognize her as part of our 21st anniversary celebration.
#Dare21nspire #AtreveteaInspirar
Give in Giovanna's honor
The 21 Profiles for 21 Years series is part of Mission:Uplift, a campaign to share the amazing stories that come from our community, while at the same time lifting up the work of Latinos Progresando, an organization that works to unlock the potential in everyone who walks through our doors. Consider joining Mission: Uplift by making an inspired gift to Latinos Progresando in Giovanna's honor: www.latinospro.org/donate