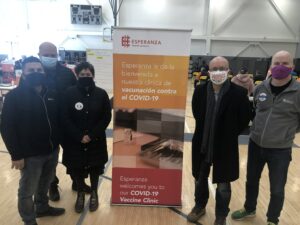 Continuing our commitment to Covid-19 response and recovery, Latinos Progresando and the Marshall Square Resource Network (MSRN) have been working to secure equitable access to the Covid-19 vaccine and to distribute accurate vaccine-related information in our community.
Throughout the pandemic, MSRN members have stepped into leadership roles in the City's equity-driven initiatives, including membership on the Racial Equity Rapid Response Team. Together, we are working to ensure that communities disproportionately impacted by Covid-19 are given equitable access to vaccines.
Earlier this month, the MSRN hosted Dr. Geraldine Luna from Chicago's Department of Public Health and Miguel Blancarte from Esperanza Health Centers as guest speakers at our Network quarterly meeting. In addition to discussing vaccination efforts, partner organizations are coordinating bilingual messaging and information to be shared with the community.
This week, with our partners at Esperanza Health Centers, Enlace Chicago, and the Offices of Alderman George Cardenas and Alderman Michael Rodriguez, we are bringing the City's Protect Chicago Plus program to Little Village.
Little Village residents age 18 and over who are interested in getting a vaccine appointment should text LITTLE VILLAGE or LA VILLITA to (773) 207-3133 and an Esperanza representative will call within 72 hours to book an appointment, while vaccine supply lasts.
While there is still work ahead, we continue to work on the front lines, helping our community recover and rebuild.