"In my work in architecture, I am often inspired by the interactions between people and place. Each time a person walks, talks, and engages with spaces and the people around them, they leave a mark in time.
LP is the home "away from home" every neighborhood wishes they had—a beacon of empathy and understanding."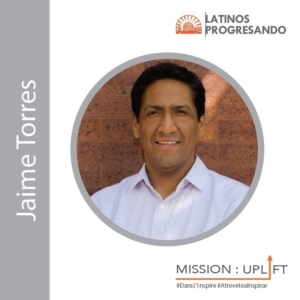 Jaime Torres is Founder and Principal of Canopy/ Architecture + Design LLC. His passion for people, places and the built environment developed from living in two densely populated cities – Mexico City and Chicago. Jaime is the lead architect of Latinos Progresando's most inspiring project to date: our very own community center! It has been a pleasure to work with Jaime and his team to bring our vision to life, and we're honored to recognize him as part of our 21st anniversary celebration.
#Dare21nspire #AtreveteaInspirar
Give in Jaime's honor
The 21 Profiles for 21 Years series is part of Mission:Uplift, a campaign to share the amazing stories that come from our community, while at the same time lifting up the work of Latinos Progresando, an organization that works to unlock the potential in everyone who walks through our doors. Consider joining Mission: Uplift by making an inspired gift to Latinos Progresando in Jaime's honor: www.latinospro.org/donate