"People who work to make the world more just and equitable without calling attention to themselves inspire me.
LP is a force to be reckoned with. The organization is an integral part of the city and deserves recognition for all that it does to empower and rise up voices that for a long time were not heard in our city."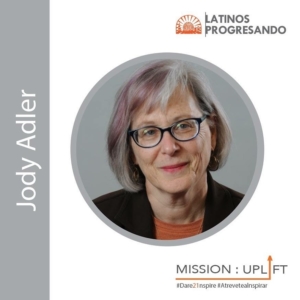 Jody Adler is the Director of The Law Project, a project of the Chicago's Lawyers' Committee for Civil Rights under Law. She personally helped LP become a 501c3 charity two decades ago, and over the years we have continued to work together. She's an integral, inspiring member of the LP family, and we're honored to recognize her as part of our 21st anniversary celebration.
#Dare21nspire #AtreveteaInspirar
Give in Jody's honor
The 21 Profiles for 21 Years series is part of Mission:Uplift, a campaign to share the amazing stories that come from our community, while at the same time lifting up the work of Latinos Progresando, an organization that works to unlock the potential in everyone who walks through our doors. Consider joining Mission: Uplift by making an inspired gift to Latinos Progresando in Jody's honor: www.latinospro.org/donate