"My family inspires me; I'm inspired by everyday experiences that I encounter: good interactions, bad interactions and the overall transmission of energy from one another.
I've always seen LP as a game changing opportunity for the community to engage in ways to help one another. They are real-life superheroes. They are the people to go to when you feel no one is there or can be there for you."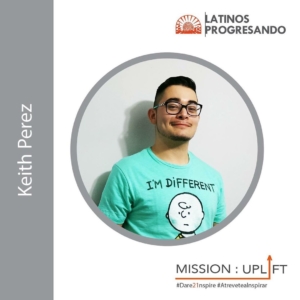 Keith Perez (aka KE/Kid Enigma) is a musical artist, DJ, and music producer. Keith uses his platform to spread positive, inspiring messages that benefit our community. He has given generously of his time and talent, bringing people together through his music, DJing at LP's marathon cheering section and other events. He's an integral, inspiring member of the LP family, and we're honored to recognize him as part of our 21st anniversary celebration.
#Dare21nspire #AtreveteaInspirar
Give in Keith's honor
The 21 Profiles for 21 Years series is part of Mission:Uplift, a campaign to share the amazing stories that come from our community, while at the same time lifting up the work of Latinos Progresando, an organization that works to unlock the potential in everyone who walks through our doors. Consider joining Mission: Uplift by making an inspired gift to Latinos Progresando in Keith's honor: www.latinospro.org/donate