"The knowledge, resourcefulness, and services of LP are remarkable. In addition to that—the level of genuine care is incomparable.
On November 30, 2017, Latinos Progresando helped yet another community member realize a dream into a reality. This individual is one of the matriarchs in our family; and becoming a United States citizen was her dream!
It's inspiring to truly realize that we can all play a role, be advocates, and conduits in LP's initiatives, which ultimately helps our communities move forward. This organization reminds us that we can all feel empowered to educate our family, friends, and all those that we can reach, to help spread the message of justice, equality, and available resources."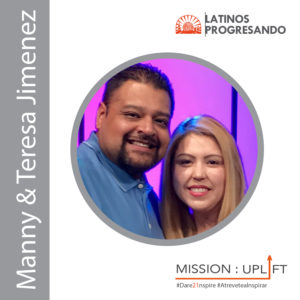 Manny and Teresa Jimenez dare to inspire others in different ways, as a family. This dynamic duo give generously of their time, talent, and treasure, not only to LP, but to their school, their parish, and countless other organizations.
They are integral, inspiring members of our community and we're truly honored to recognize them as part of our 21st anniversary.
#Dare21nspire #AtreveteaInspirar
Give in The Jimenez Family's honor
The 21 Profiles for 21 Years series is part of Mission:Uplift, a campaign to share the amazing stories that come from our community, while at the same time lifting up the work of Latinos Progresando, an organization that works to unlock the potential in everyone who walks through our doors. Consider joining Mission: Uplift by making an inspired gift to Latinos Progresando in The Jimenez Family's honor: www.latinospro.org/donate