SATURDAY, APRIL 27th
Free, and open to all, the annual summit will feature workshops in Spanish and English on a number of topics. For the first time, the 2019 summit will also feature a youth track, with programming geared specifically to high school students.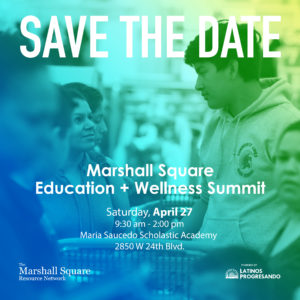 9:30 – 10:15am Registration & Childcare Check-in
10:15 – 11:00am Welcome & Opening Session
11:15 – 12:00pm Session 1 Workshops
12:15 – 1:00pm Session 2 Workshops
1:00 – 1:15pm Childcare Pick up
1:00 – 2:00pm Lunch & Resource Fair
Download the workshop descriptions.
For more information: msrn@latinospro.org.
SABADO, 27 DE ABRIL
La cumbre anual sera gratuito y contará con talleres en español e inglés sobre varios temas. Por primera vez, la cumbre del 2019 también contará con una pista para jóvenes, con programación orientada específicamente a los estudiantes de secundaria.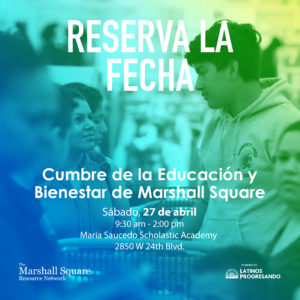 9:30 – 10:15am Registracion e Inscripcion de cuidado de ninos
10:15 – 11:00am Sesion de apertura
11:15 – 12:00pm Talleres Sesion 1
12:15 – 1:00pm Talleres Sesion 2
1:00 – 1:15pm Recoger ninos de guarderia
1:00 – 2:00pm Almuerzo y feria de recursos