"The power of words, language, communication and poetry inspires me because I believe it can ignite the change we want to see in the world and in ourselves.
LP has offered me a chance to use my voice and to showcase my talent. I see LP as a platform, a chance to network and an educational organization that strives to improve the lives of Latinos everywhere."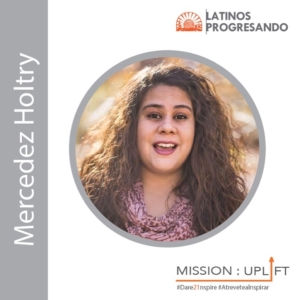 Mercedez Holtry is a poet, writer, mentor, and Xicana feminist who focuses on bringing out her roots, experiences and lessons learned through her poetry in hopes that they embrace her people and other artists around her.
She was also the opening poet at LP's 2016 MEX talks and we're honored to recognize her as part of our 21st anniversary celebration.
#Dare21nspire #AtreveteaInspira
Give in Mercedez' honor
The 21 Profiles for 21 Years series is part of Mission:Uplift, a campaign to share the amazing stories that come from our community, while at the same time lifting up the work of Latinos Progresando, an organization that works to unlock the potential in everyone who walks through our doors. Consider joining Mission: Uplift by making an inspired gift to Latinos Progresando in Mercedez' honor: www.latinospro.org/donate