"My inspiration comes from recognizing that we are all connected and we have the power to shape our experiences into moments that embody our values.
Inspired by the struggle of our immigrant parents, Latinos Progresando to me is a social entity that consistently reminds all of us to not forget how the immigrant sacrifices of the past live in the present and how we can come together to move forward as a community. This profoundly American story that we all share in our unique cultural ways is what Latinos Progresando edifies in the community they affect."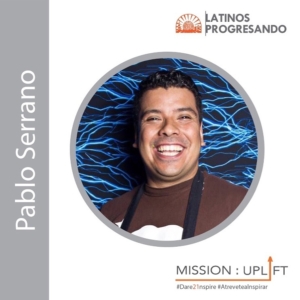 Pablo Serrano is an artist, activist, and mainstay in Chicago's karaoke scene. Pablo uses his creative work and various platforms to spread positive, inspiring messages that ultimately benefit our community. He has given generously of his time and talent, including participating in LP events and the co-creation of a mural with LP in Pilsen. He's an integral, inspiring member of the LP family, and we're honored to recognize him as part of our 21st anniversary celebration.
#Dare21nspire #AtreveteaInspirar
Give in Pablo's honor
The 21 Profiles for 21 Years series is part of Mission:Uplift, a campaign to share the amazing stories that come from our community, while at the same time lifting up the work of Latinos Progresando, an organization that works to unlock the potential in everyone who walks through our doors. Consider joining Mission: Uplift by making an inspired gift to Latinos Progresando in Pablo's honor: www.latinospro.org/donate