"I love and admire LP because it is a community-responsive organization, driven by compassion, integrity, respect, and love.
Working with LP is not a game of grabbing credit, but a collaborative effort to move issues forward. Stable but never stagnant, LP has outlived many larger organizations because of its peerless work, its thoughtful and careful funding strategies, and the deep commitment of its incredible staff."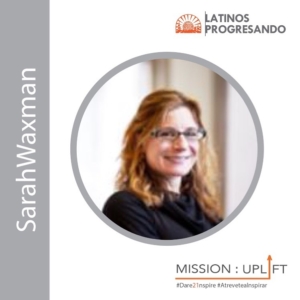 Sarah Waxman is the Managing Director at the Young Center for Immigrant Children's Rights. She has experience providing pro bono legal immigration services for asylum seekers and people applying for immigration benefits under the Violence Against Women Act. She has given generously of her own time and talent for many years, including being our Legal Services Director in LP's early days, and now serving as the current Board President. She is an integral, inspiring member of the LP family, and we're honored to recognize her as part of our 21st anniversary celebration.
#Dare21nspire #AtreveteaInspirar
Give in Sarah's honor
The 21 Profiles for 21 Years series is part of Mission:Uplift, a campaign to share the amazing stories that come from our community, while at the same time lifting up the work of Latinos Progresando, an organization that works to unlock the potential in everyone who walks through our doors. Consider joining Mission: Uplift by making an inspired gift to Latinos Progresando in Sarah's honor: www.latinospro.org/donate