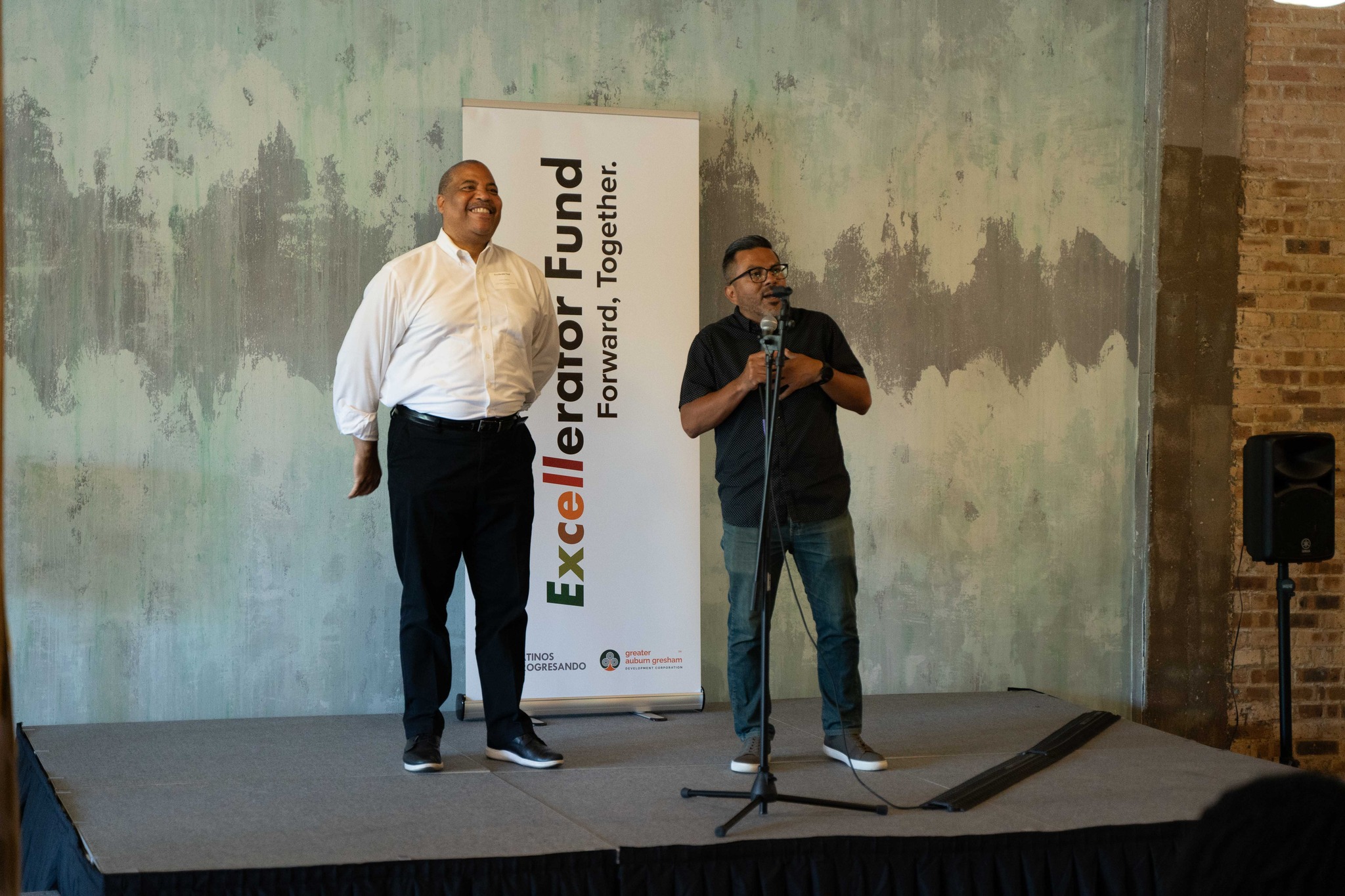 INVESTING IN LOCAL LEADERSHIP
The summer of 2020 ignited a new focus for Latinos Progresando (LP). Through racial equity-focused efforts, we learned how critical it is to support localized strategies with collaborative, culturally-responsive leadership. In partnership with Greater Auburn Gresham Development Corporation (GAGDC), we developed the Excellerator Fund to invest in Black-led and Mexican-led organizations to respond to emerging needs in their communities, while building bonds across communities.
Luis Gutierrez of LP and Carlos Nelson of GAGDC were working together on the City of Chicago's Racial Equity Rapid Response Team over the summer of 2020 when they began brainstorming how to collaborate and support one another's organizations.
Nelson recalls the hurt that he and Gutierrez felt when they reflected on the representation of their communities during that summer, particularly during the civil unrest that followed the murder of George Floyd. "The talk that was permeating throughout the city was not as much about COVID deaths and despair. It was about the fact that Black and Mexican gangs were battling."
He continued, "We don't exist in a vacuum. And in order to build up our city and our community, we have to forge alliances and Luis and I have really forged a serious, significant partnership."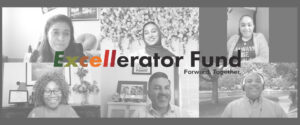 As reflected in a Crain's op-ed piece: "With our decades of experience embedded in our communities and mutual trust, the Excellerator Fund serves as a model to bridge public and private resources with the on-the-ground knowledge, relationships and experience to drive success."
What makes the Excellerator Fund different, Gutierrez noted, is that it is driven by hyperlocal, culturally-specific leadership, whereby Black and Mexican voices steer strategies impacting Black and Mexican communities. It is a part of a larger shift towards trust-based philanthropy, in which philanthropy is asked to trust our community leaders to make appropriate decisions about who and what gets funded within our communities.
For both leaders, this initiative is also personal. It's a step towards healing.
"I grew up about four blocks from North Lawndale. I never met a Black person until I went to high school. That level of segregation is an absolute tragedy." Gutierrez shared. "And so as I grew up and started getting into nonprofit, one of the things I really wanted to do is work on building stronger relationships between the Mexican and the Black community."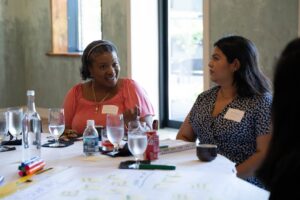 This June, we celebrated our first cycle of grantees at Lacuna Lofts. Together, nonprofit leaders shared insights based on experiences in their community. It was an opportunity to build relationships across sectors, and many left with new, burgeoning bonds.
The Excellerator Fund is a five-year, $10 million initiative, and will continue with a second cycle of grantmaking this year. Follow Latinos Progresando's social media (@latinospro) for ongoing updates, including features on Excellerator Fund grantee organizations.