"What inspires me most is to see good faith people recognize a greater potential within themselves and move towards fulfilling that potential.
I see LP as trustworthy and valuable resource for the immigrant community in Chicago. The organization to me is an example of what community building and leadership can look like in a truly grassroots way. "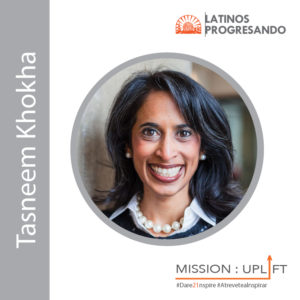 Tasneem Khokha has spent more than 15 years cultivating lawyers and other professionals to bring out the best in their relationships and talent. Tasneem has also given generously of her own time and talent, including being part of our Board of Directors, to develop and support our organization's vision. She brings innovative ideas to improve our work and we're truly honored to recognize her as part of our 21st anniversary.
#Dare21nspire #AtreveteaInspirar
Give in Tasneem's honor
The 21 Profiles for 21 Years series is part of Mission:Uplift, a campaign to share the amazing stories that come from our community, while at the same time lifting up the work of Latinos Progresando, an organization that works to unlock the potential in everyone who walks through our doors. Consider joining Mission: Uplift by making an inspired gift to Latinos Progresando in Tasneem's honor: www.latinospro.org/donate