The Miller-Perez Scholarship Fund is accepting applications from high school seniors and current college students now until Monday, April 10th. We spoke with two former scholars to see where they are now and what advice they have to share with applicants. Be sure to share this story with someone you know who would be fit for the scholarship! Learn more about the application.
VALERIA MONREAL
Loyola University, Class of 2023, Biology Pre-Physician Associate Track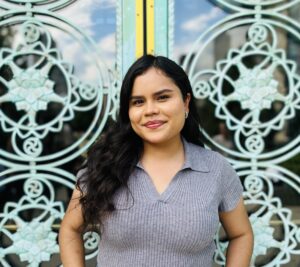 How was your transition into college?
I would say that the transition was more challenging than I anticipated mostly because there are things that you don't know, or that no one really tells you, especially if you're the first in your family to go to college. It stemmed from things like financial aid conversations, self-advocacy regarding resources that will help undocumented students, and things like that. Thankfully I was able to reach out to people at Loyola and also mentors who helped me in my transition.
What helped you along the way?
The two most significant things that have helped me along my way are networking and self-advocacy. And I know those are two challenging things. As an undocumented student, there are so many barriers; and at college, it's an even bigger playing field. When I knew I couldn't cover my financial aid gap, I reached out to an administrator within the office that supports undocumented students, students of color, etcetera, and I asked if they knew a contact in the financial aid office where I can explain my situation.
Another way that I have been a self-advocate is through creating a list of recommendations for Loyola to show more of their support to undocumented students. Being a self-advocate and holding the university accountable has not only helped me, but it's going to help other students that are undocumented to continue their education at Loyola. So I think it's about identifying the problem, figuring out who can help you, pursuing that, and then also holding them accountable not only for yourself but for their students.
What has been most rewarding about pursuing higher education?
I, alongside people in my community, created a branch of Cause called Undocumentored. Essentially, we support undocumented high school students academically, emotionally, and socially. We pair them with a college student that is also undocumented or an ally and is aware of the challenges. I serve as a program coordinator for this program, and I've been doing it since January. It feels full circle because when I came to college, I joined a program that paired me with a Latina upperclassman who mentored me.
It's really rewarding to hear that we're actually making an impact in these students' lives and that they feel like they have an additional support system. I went through that process as an undocumented student and there were so many 'no's, so many doors closed, which is why I'm grateful for Latinos Progresando because they opened that door. They said yes. And you just need one 'yes' to keep going. So my mentorship is about sharing as many resources as I can and helping them navigate the 'no's, but also champion the 'yes's.
Do you have any advice for aspiring scholars?
Write about experiences that show your truest and most authentic self. When people are reading it on the other end, if they get to know and hear part of your story, that really helps make you stand out. I would also recommend that you reach out to people in your circle to read the application essay to catch those grammatical errors or to just make sure that the scholarship essay reflects you. Something I want students to remember is that if there are no opportunities, then it's definitely possible to create those opportunities for yourself and others.
CRISTIAN ORTIZ
University of Illinois Urbana-Champaign, Class of 2024, Computer Science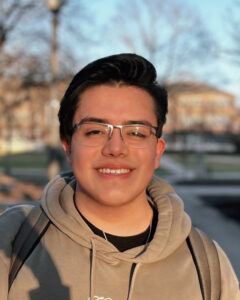 Are you involved in any communities or organizations? If so, what are they?
I managed to meet a lot of friends through different organizations that I took part in when I got here on campus. One of them was the Society of Hispanic Professional Engineers. I came here like two weeks early to participate in that program, do different activities, and to meet engineering students. It's honestly like a big support system because I have about two or three friends that I had during that program that I still have today, and we almost always take the same classes together.
Why did you decide to apply to the Miller-Perez Family Scholarship Fund?
The mission of Latinos Progresando made me feel inclined to participate in this and be like, 'Oh, they're helping a lot of Latinos with different resources and just in every situation.' I've always had a mentality of when I get out of college, I want to help other Latinos who are in my situation just as a way of giving back to those communities that helped me out, that helped me get to where I am.
What are your future plans?
My biggest goal, well, just in general, I've always wanted to come to college. My parents were very supportive of me in that. Being a Hispanic in engineering, I've noticed that our community is not as represented in this specific field. In my freshman year, I got an internship with Microsoft, which was really big for me. But sadly, because of my undocumented status, I wasn't able to work and take that opportunity.
So after that, I've just been trying to build up to the point to apply again. And just recently, I think it was like in November, I received a work permit. Honestly, I don't think it would have been possible if I wasn't in college because a lot of the things that I've done were used to build up my case for receiving a visa status to stay here. I don't think I would have been at this point if it wasn't for the support that I received with Latinos Progresando, and I'm just really thankful for that.
Do you have any advice for aspiring scholars?
Some advice that I would give to aspiring scholars is to never give up and not let anybody tell you, 'no, you can't do this' because there's always going to be a way to accomplish it. Everything's possible. And I would also say be yourself. Genuinely talk about yourself and be honest about who you are in the application because in the long run, if you end up getting the scholarship, you want to be proud of the things that you've done and how you got there.

Formerly known as the Dr. Angela Perez Miller Scholarship Fund, the Miller-Perez Family Scholarship Fund honors Dion Miller Perez, his mother Dr. Angela Perez Miller, and their families, who were important advocates of youth education in Pilsen and Little Village.
A special thank you to all of the donors who have supported this scholarship and have, in turn, advanced academic opportunities for Latino and immigrant students.